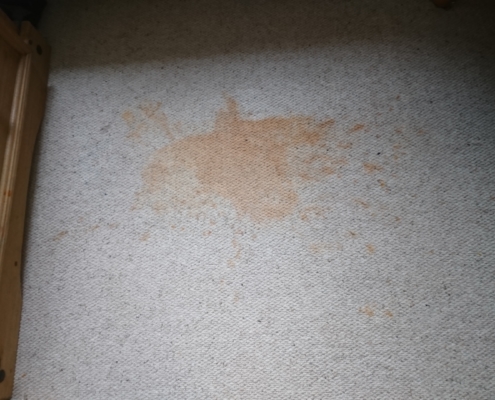 Stain removals in Bristol
Profesional Carpet Stain removals in Bristol
When we carry out specialist carpet stain removal in the Bristol, Bath and surrounding areas, the major issue we have is customers attempting to remove the stain themselves. Whether its Using household products from under the kitchen sink (we all know the ones) which can have an adverse effect on the carpet fibres especially wool and in cases can set the stain.
Or due to the rise, many online blogs and money saving tips advise different methods and old wives tales even advice from old John at work, unfortunately, these methods do more damage than good, and even if the stain does seem to be removed often  it comes back in weeks after attempted removal as well as added degradation of the carpet fibres due to the rise of alkalinity of the carpet which is detrimental to wool, Wool,mix carpets. Unfortunately just chucking a product down without rinsing, extracting or leaving the carpet at the right acidity just won't work no matter what advice you have been giving professional stain removal service is your best option going forward
At Aura Floor Care we have attended advanced stain removal courses, in fact you cannot achieve Trustmark Certification without attending advanced stain removal courses and to achieve National Carpet Cleaners full membership as well have you also need to do an advanced carpet cleaning course.
But we didn't stop there Aura Floor Care as consistently advanced though learning aspects of chemistry and working with the leading carpet cleaning product manufacturers sourcing the best Child pet-friendly products that give the best results, we are constantly in demand for our stain removal services and also seem to receive calls from other cleaning companies  up and down the country trying to ascertain the products and methodology we use. Sometimes after using effective stain removal methods or worsening a spot into a major stain, which is why we recommend advanced stain removal courses before attempting any stain something customers should be aware of not all carpet cleaning companies are just not the same. Some companies will risk using products they have not thoroughly tested or applied in the wrong measure or have not been trained to use, some just panic then applying more making the situation worse, that's when we get to call to remedy the situation, we advise calling as soon as possible in this case.
Here is an example of a large stain in which the customer tried removing using 1001 on a wool carpet with no protecting agent on it, then calling a local cleaning company which had prices on site charged more and which had no real effect, apart from increasing toxicity and alkalinity which not only could have damaged the carpet worse case or further set the stain best case
GET A FREE QUOTE
https://www.auracarpetcleaning.com/wp-content/uploads/2013/04/rect3042-1-43.png
0
0
auracarp_wp
https://www.auracarpetcleaning.com/wp-content/uploads/2013/04/rect3042-1-43.png
auracarp_wp
2017-09-28 10:06:27
2017-09-28 10:18:41
Stain removals in Bristol